Brand identity and strategy for Singapore Marathon, organised by Standard Chartered, a bank in Singapore.
SINGAPORE MARATHON
Unless You're Running, Why Would You Care?
The average person cannot relate to Singapore Marathon's goal of qualifying for the Abbott World Marathon Majors.
But to achieve this goal, Singapore Marathon needs the average person to care enough to spectate.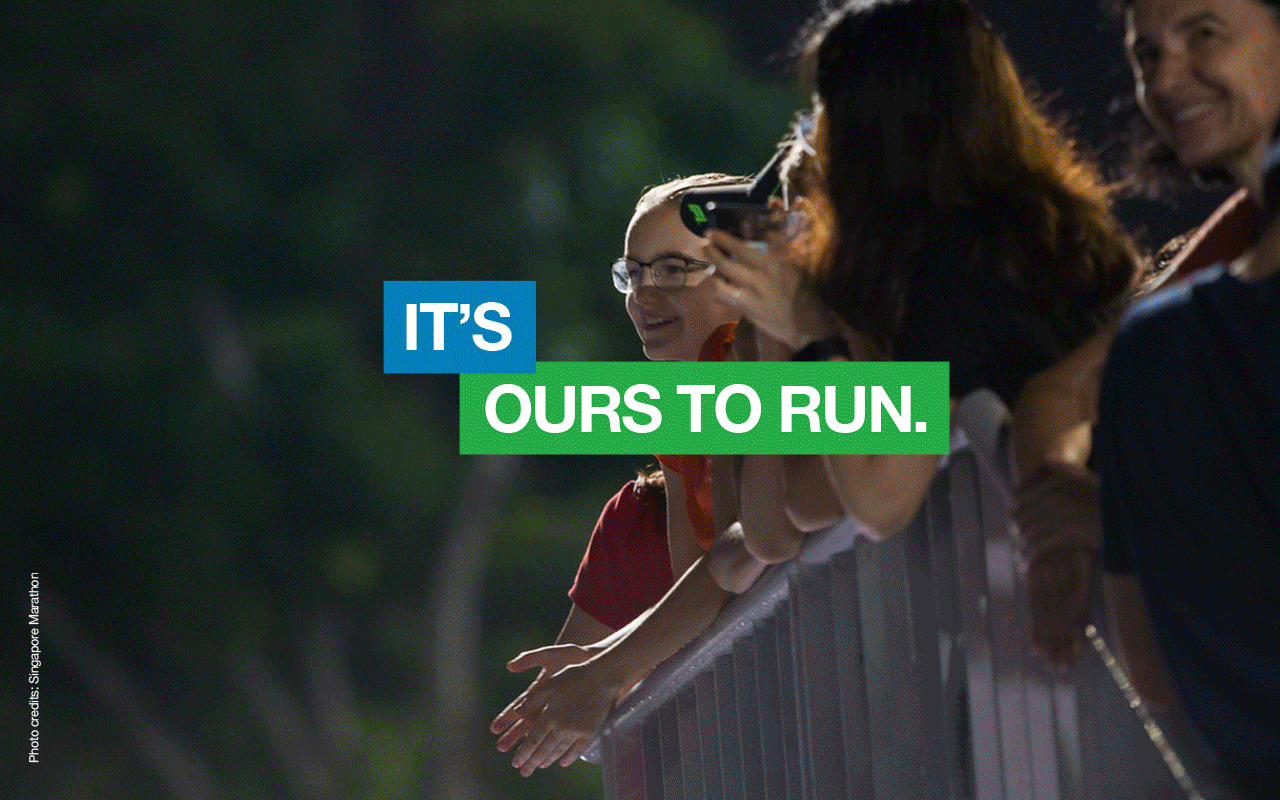 Established in 1982, Singapore Marathon has become a major annual event with an average of 50,000 entrants. However, to join the ranks of Tokyo and Boston in the Abbott World Marathon Majors, our event needs to draw a spectator crowd that completely changes the atmosphere of the city.

As a spectacle, marathons don't offer the glitz and glamor of F1 racing, nor the adrenaline rush of combat sports. Marathoners are in a race against themselves — a solitary battle within each runner.

So what's in it for the spectator?
IT'S NOT THE COURSE THAT MATTERS,
IT'S THE PEOPLE WHO LINE IT
Our strategy for inspiring stronger supporter turnout: Highlighting the emotional impact of a supporter, in a sport that's deeply personal.
IT'S NOT A MARATHON WITHOUT YOU
How often do you get to root equally for everyone to cross the finish line? How often does your presence mean something on a national level? Singapore Marathon needed a way to communicate this spirit of camaraderie to friends and family of their runners.
NOT JUST FOR ATHLETES
Above all, Singapore Marathon had to overcome the perception that it was an event for athletes.

By developing an accessible language that spoke to both supporters and athletes, we were able to get our messaging across clearly.

Brand Purpose & Strategy, Visual Identity System, Messaging Pillars
Our push to increase Singapore Marathon's spectator numbers resulted in 100,000 in attendance over marathon weekend. By turning our attention towards motivating spectatorship, we built a community around an individualistic event.
Need help with your brand identity or strategy?

CONTACT US
︎
---