Oatbedient, the Singaporean brand with huge ambitions to do right by people and the planet, while inspiring change along the way.

brands that love people...#04
---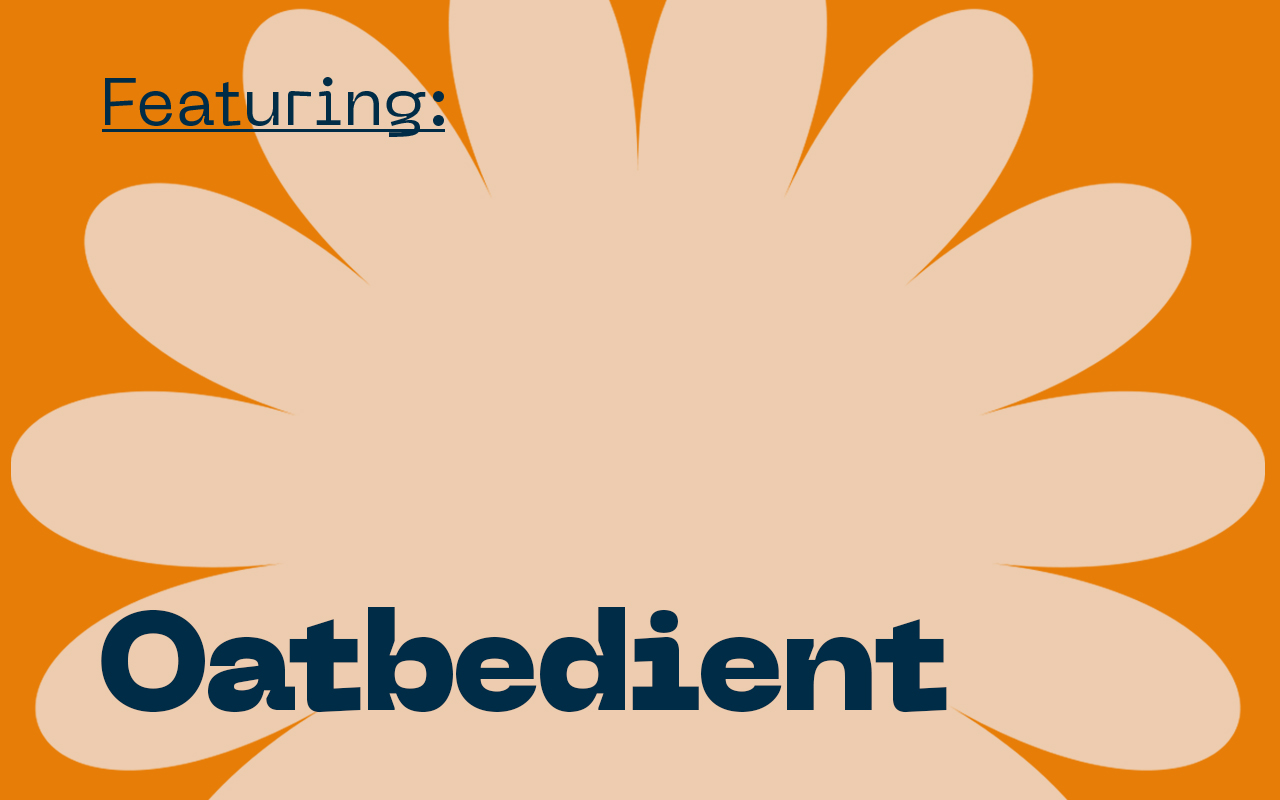 ©Somewhere Else
"On a sunny Tuesday morning, ELAINE TEO, managing partner at
Apricot Capital
and co-founder of
Oatbedient
takes precious time off her many projects to share her thoughts with us"


What inspired you to start Oatbedient?
It was very simple really—we couldn't find beverages we would feed our children on the shelves. There's always palm oil, too much sugar, and other unnecessary fillers.
We thought of creating a brand that could fill that gap and that's how the journey started—we wanted to to create products that we truly feel safe to feed our children with and we believed that there must be other parents just like us, looking for good, clean, safe food for their families.
You make it sound so easy!
It really is just that—our North Star is very clear, and with that everything else naturally falls into place.
One would assume that with your past successes, it'd be comfortable to take it easy...
It's important for one to have aspirations and goals in life. Staying relevant is a need for me so that I can continue to connect with people and the world.

It's very difficult to take that entrepreneurial spirit out of us (our family). So alongside our investment activities, we've also gone into the business of starting businesses—businesses that are ethical and socially responsible. We have such great skillsets, it's a waste if we don't put it to good use. That and we just enjoy the pulse of growing businesses.

We deeply believe that doing good is good for business. So when we spotted a clear gap in the market that was within our expertise as food manufacturers, it was only natural that we got going. Now we can't wait to see just how far Oatbedient can go.

Feeding our community with clean labelled real food is our key motivation. With that genuine purpose, the numbers will come in naturally when consumers understand our intent of our products.

It really comes from our hearts, because we've seen a lot of unfair manufacturing practices in the industry—both large and small. This is our chance to do something to change the status quo. And if we're genuine about our intentions, we'll do it well and the customers will know; that's how our business will grow. We believe we can do well and do good at the same time.


What's wrong with the food we consume today?
As simply as I can explain, there's too much inferior ingredients in the food we buy from our supermarkets. Things like additives, flavourings, non-dairy creamer which are hydrogenated fats, have been found to cause heart diseases.
I'd watch out for Palm Oil, Sugars and Fillers. And what are fillers? Sometimes, manufacturers add fillers to bulk up products as a means to achieve a higher net weight for cost management.
And because of such issues, at Oatbedient, we achieve our net weight with the use of as little ingredients as possible. We're free from preservatives, palm oil, colourings, flavourings, and fillers.

Actually, how much more difficult is it to manufacture clean food?
Making cleaner food is really just about people having the heart to do so—having the right people on board willing to make changes to the status-quo. More often than not it's just people and corporations worrying about cost and profits.
Naturally, it's going take some time for big players to make a change—there's just a lot more inertia with their scale and how the business is structured; it's a very difficult decision for owners to change a formula especially if it's working well.
But that means there's a lot of room for small entrepreneurs like ourselves to step in and make the change.
With employment of good manufacturing practices, it's do-able. That's how we can extend our products' shelf life naturally. If we're using good ingredients, we have natural flavours and no need for artificial ones! It's not that difficult once we shift emphasis away from creating impersonal products.

What does Oatbedient do to minimise its environmental impact?
We do whatever we can, within our means. For the moment we use recycled materials and avoid shrink wrap wherever possible. The best we can do for now is to be mindful of our choices and look carefully to minimise wastage. For us, we take a very conscientious effort in developing our processes and packaging—we're always looking for ways to reduce wastage; we don't simply adopt the default ways of doing things. We know we can do more and will continue to improve our processes.



On that note, what does being a regenerative brand mean to you?
It unlocks a lot of opportunities and possibilities.

Against the landscape of large food corporations, we see ourselves as the underdog, the challenger, and from this perspective it's very easy to see where the industry has gone awry. By having that intention of being better and doing better than what's out there, truly identifying where people's needs really are allows us to see so much room to play in.

Again, simple idea—doing good is good for business. It doesn't have to be anything more profound.

Having already been so successful, what does success mean now to you?

Yes, we have a different definition of success.
For us, it's about providing good quality, safe products for people. Everyone on the team genuinely believes in this mission, so we want to be the best for as many people as we can; we're pretty much relentless in this regard. By scaling up and being able to reach far beyond Singapore, we will inspire more people to follow in our footsteps—that's our picture of success.
A moonshot would be to see the eventual removal of junk and fillers from food production in our lifetime.
What's been some difficult phases in setting up this brand?
While we do have many years of experience in manufacturing, it's still no walk in the park. We are very lean and not fund-raising at the moment. Our R&D facilities are modest and our production volumes are small for now. It's really as good as going about with barehands, starting from the ground up.
But as an entrepreneur and co-founder, I'm enjoying the process and journey because the team's great and the work is meaningful in addressing a higher purpose. We've been able to get many supportive partners on board just because of our vision. The real challenge for us now is getting the word out—we're the first in the world with a soluble oat milk product so there's a lot of product education we have to do.
Though we're in the early days of our brand, people love our products once they have tried them. So how do we get more people onboard with us? That's our challenge and our team is all geared up to increase adoption.
Some advice for fellow entrepreneurs?
I hope you find clarity in your purpose and go about fulfilling your aspirations, goals and most importantly, meaning.
For 2nd generation SMEs owners, be hungry for knowledge, learn from the best mentors you can find. Stay steadfast and true to your heart—stick with what you genuinely believe and remember that it has to be purposeful.
As for aspiring entrepreneurs, I'd say—keep striving, never give up. If you spot mistakes, don't be afraid to fail. Rework and just move on. There's not many easy days, but I've seen entrepreneurs launch with very little means, it's not necessarily about having a big budget, but more about finding the right people and working together as a team.
How to Help Oatbedient Grow
---