How Singapore's iconic F&B, hospitality company, The Lo & Behold Group build company culture that truly inspire from inside out.
brands that love people...#03
---
©Somewhere Else
"On a warm humid morning just before Singapore's rainy season, we catch up with
Tania Chan
,
Chief Marketing Officer, The Lo & Behold group."
1)
Providing a distinct perspective without chasing trends
It starts with knowing who you are.
For every concept The Lo & Behold Group embarks on, we're very clear on what its purpose and perspective is. We choose projects based on whether they offer something that Singapore doesn't already have and if we enter a category that does have other players, we're clear on how we'll do it differently in a way that could uplift the category as a whole. With many concepts like Loof, Tanjong Beach Club, Straits Clan, Extra Virgin Pizza, Po etc. we were conscious of creating something people didn't necessarily know they needed (yet) at the time.
With Odette for example, when we entered the fine dining category, we had observed the status quo to be cold, arrogant, masculine and notoriously tough on its people. One of the main reasons we were drawn to Julien was because of his infectious passion for his people. He would quote his mentor Alain Passard in saying "Without our people we would be nothing". Together, we wanted to show a different side to fine dining, one that was warm and inviting, both to our guests and our talents.
Being clear on the "why" helps us craft the story for each concept. We draw inspiration from a larger purpose. Sometimes this comes from a people perspective (e.g. the chef's personal story), sometimes the place (e.g. a beautiful building or a secluded spot of sand). And sometimes, a purpose much greater than ourselves, like helping to foster an appreciation for Singaporean cuisine and learning about our heritage through food. For example with Po, we wanted people to value local food just as much as they do foreign cuisine. We were very conscious of the debate we were igniting through our pricing and wanted people to question the value we place on Singapore cuisine vs Western food.
When you're intentional about the story you're trying to tell, it's much harder to waver and you can create something truly different. For Tanjong Beach Club, we realised that for a city surrounded by water Singapore doesn't have much of a beach culture. And so everything we do, be it the design of the space, our food and beverage programme, the retail shop-in-a-box, our beach festivals and weekly Sunday parties are all with the intention to create a beach culture in Singapore. People often say, "I didn't know this was a Lo & Behold venue, but it feels like it". There's a layer of thought that ties everything together. And people feel it.
2)
Creating culture and helping new staff internalise brand values
Hospitality is a passion, so hiring right is the first step. You can't teach someone to be hospitable, it's an innate desire to make people feel better. After all, hospitality is rooted in kindness and opening your home to strangers.

Once you find the right people, the culture needs to fan their fire. The best way to encourage that is to enable and then celebrate.

We've started an internal initiative (temporarily named 'Special Moments Fund') which began because we wanted to take care of our people who were burnt out. What started out as an idea for staff meals was soon poo-pooed by our leaders. They felt it wouldn't make a dent and as much as we wanted to show we cared, it would feel very much like an ivory tower move. And so we decided to trust our leaders to do what they felt was right for their people. We would provide them a pool of money (which symbolises the license to do what they can), told them it needed to be spent on something personal and meaningful, then amplified their stories. One manager got every staff member a Disney+ subscription. Others went to buy professional chef knives for their junior cooks. The impact was much greater than any staff meal could have brought. And they brought that renewed energy back to their work. You can't expect staff to be hospitable to customers if they've never experienced it themselves.

People need to feel it in order to pass it on. The key is not to try and control it; give them the license, permission and celebrate it when it's done right.


Images supplied by The Lo & Behold Group
3)
Why a true "people culture" impacts not just employees and customers but partners and suppliers
In this industry, our suppliers are what make and break us—it's the quality of our produce. We make a conscious effort to be fair and we don't squeeze them too much. We've taken the whole of this year to rethink our values and practices. We only have three, each of which is extremely actionable:
"Be kind, be firm" governs how we treat one another
"Bolder, better" governs the work we do as well as the work we do not do
"Own it, fix it" guides how we operate as a business
With suppliers, partners and even with our own staff, "Be kind, be firm" is always challenging. In hospitality, the natural inclination is to 'say yes', whilst in business you always want to say "no" and squeeze more!
Images supplied by The Lo & Behold Group
4)
A surprising outpouring of love, encouragement and support during the pandemic

It was a complete surprise! As a marketer, I sometimes feel "of course I should've known that our customers love us so much… " We always knew we had fans, but we always saw them as fans of the brand and not necessarily of us as people. 100% credit goes to our teams in the venues because they obviously got the human relationships right.

Our GMs were sharing that their regulars would text them and say, "Don't worry we're here for you, we'll keep ordering". Brands like Odette and Le Bon Funk were 70% supported by regulars. People wanted to donate to the staff relief fund and would buy vouchers to encourage us.

It was the one-to-one connections that really made us feel the love. The outpouring of support showed us that we were doing something right. It's nice to feel appreciated, because sometimes you're just running around getting things done.



5)
Advice for organisations who want to provide assistance to their staff or community but don't know where to begin
Starting a community kitchen
When you pick a cause it has to tie in with your purpose. The pandemic helped us sharpen what our focus was. We were pivoting all over the place and it was difficult finding time to think of someone outside of ourselves. But we knew if we didn't do it then, we'd never do it. We realised "feeding others was what feeds us". We devoted a significant amount of time to finding the right partner, the right time and the right community to support.
The whole company was behind the community kitchen–it was heartwarming to see. Across all departments, employees from HR to finance to our venues, were eager to volunteer their time. Within our network, we had chefs contributing recipes and suppliers subsidising fresh produce, catering to the tastes and preferences of our beneficiaries. Over 30 days, our volunteers worked to prepare quality meals that would bring familiarity and comfort during a difficult time; we had to fulfil 450 meals a day, 7 days a week! It was a logistical nightmare but in the end, the team took it in their stride and were so happy to have done that for our community.
Advice
Before you take care of others, take care of your own.
Staff relief fund
The biggest learning was if you want to give, just give. The big catch in organisations is wanting to do something benevolent but attaching a whole bunch of strings and T&Cs, hence we wanted it to be independently-run from the start. Anybody could (and should) be able to apply and we processed every single request. Nobody needed to show proof of termination. Yes people might take advantage of it, but we decided to trust our people and trust that they only applied if they really needed it.
Upskilling opportunities
We sent a lot of people for different types of training during that period. It was quite reactive because we wanted to make use of their time. We had good relationships with hospitality schools and the polytechnics. Some people got to learn about wine whilst others learnt about operation systems.
It was great we could plug into a learning system but we were just sending them without knowing whether it would be good. The overall feedback was a mixed bag which was to be expected since everyone was clamouring to get these courses out as well. In hindsight, more intentionality and greater forward planning in terms of training programmes would have seen this time better spent.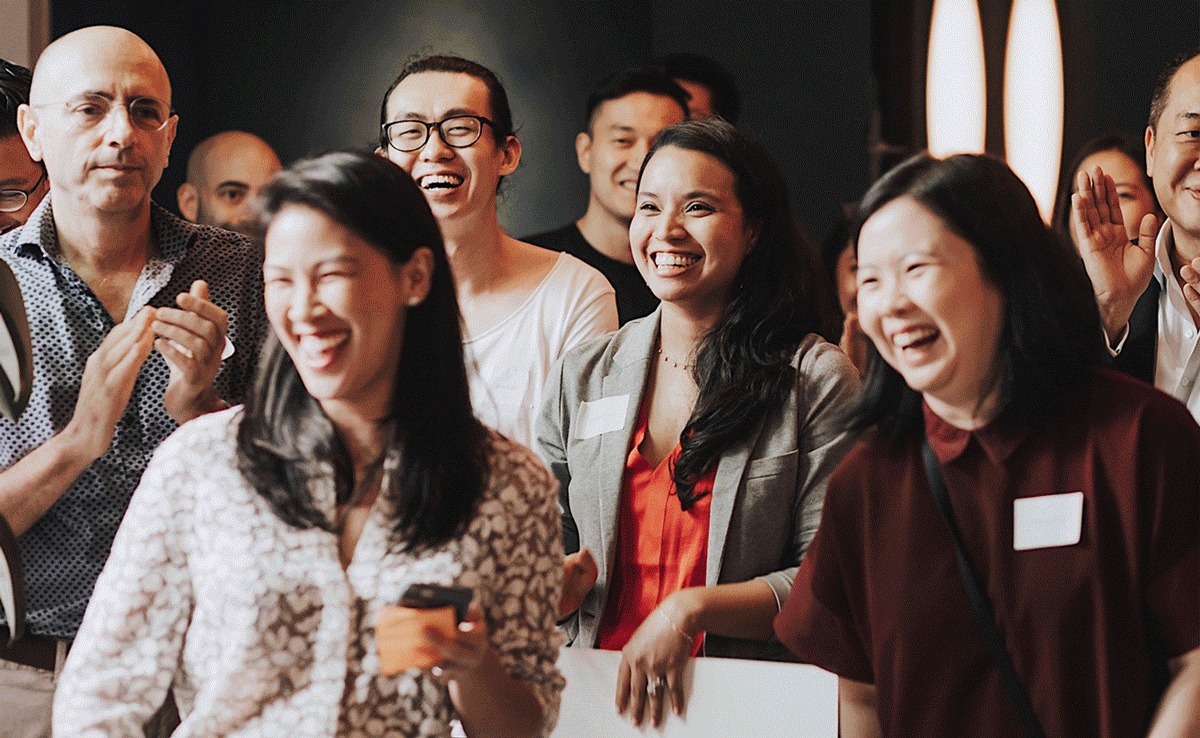 Images supplied by The Lo & Behold Group
6)
How F&B brands can remain nimble in order to take better care of their people, customers and community
"Special Moments" fund

We're thinking of expanding this to involve customers, as it gives our people the freedom to do something for others as they see fit. We'd build it into leadership KPIs, commercial / brand / people / guest experience goals and judge our people based on how well they do on that. If you want people to create awesome experiences, you can't govern what they do to get there, we just want to hear the stories at our quarterly meetings.

The only way to be nimble is by empowering others. It was quite a difficult process for us to learn. We're still adjusting from being tightly-run in the past, to being 'flexible yet clear' on what areas we want to be kept in the loop. Identifying which elements to retain / enforce and which to empower / trust is a constant work in progress.

Culture needs to be aligned across the entire company because we have chef partners in joint ventures with stakes in the business. We need to find middle ground, understand what our business partners believe in and the extent to which they can implement our business practices. The business practices we do decide to keep are extremely impactful for building the culture.


Images supplied by The Lo & Behold Group
7)
How a purpose-driven brand can also future-proof itself
Never has it been more important to pay attention to what our people are saying. Many people are leaving the industry and it's a bit 'do or die' right now. The long hours and hard work in hospitality have always been challenging, but people generally stayed and moved from one company to another. However, the pandemic heightened the uncertainty and for many people, it was the straw that broke the camel's back.

For those who choose to remain in this industry, what is it that they really want? We need to understand and create programmes around that. It's not about the frills. What they want is a career, knowing you'll invest in them to help them make their mark in this industry. Since the undercurrent of our industry is "guests are treated better than staff", they want to know they're part of a company that stands up for these issues. There are so many issues swept under the rug: harassment, difficult kitchen culture, etc.

Companies who'll weather the storm and come out stronger are those that listen to what people care about and craft that next journey with them. We'll continue to invest time in responding to and developing the right programmes for our people.

Another way of future-proofing is investing in making our industry better in the long run. We're fortunate to be in a position where people are coming to us to invest in them. We're about to set up an investment fund for startups that are in their own way benefiting the F&B industry. For example, a HR tech platform that allows us to manoeuvre part-timers much more efficiently, or a procurement platform. There's been a fair amount of interest and attention for tech platforms in the hospitality space.

Ultimately, we're looking at how we can extend our mission beyond an individual restaurant or bar to make our city more lovable.




How to Get Involved
We'd love for people to join us! Please get in touch with The Lo & Behold Group if your ambitions and beliefs align with our brand values.
joinus@lobehold.com
.
View our open positions
here
.
---