Branding is not just an aesthetic exercise, but brings to life a unique experience for customers.
heart 2 heart with...#02
---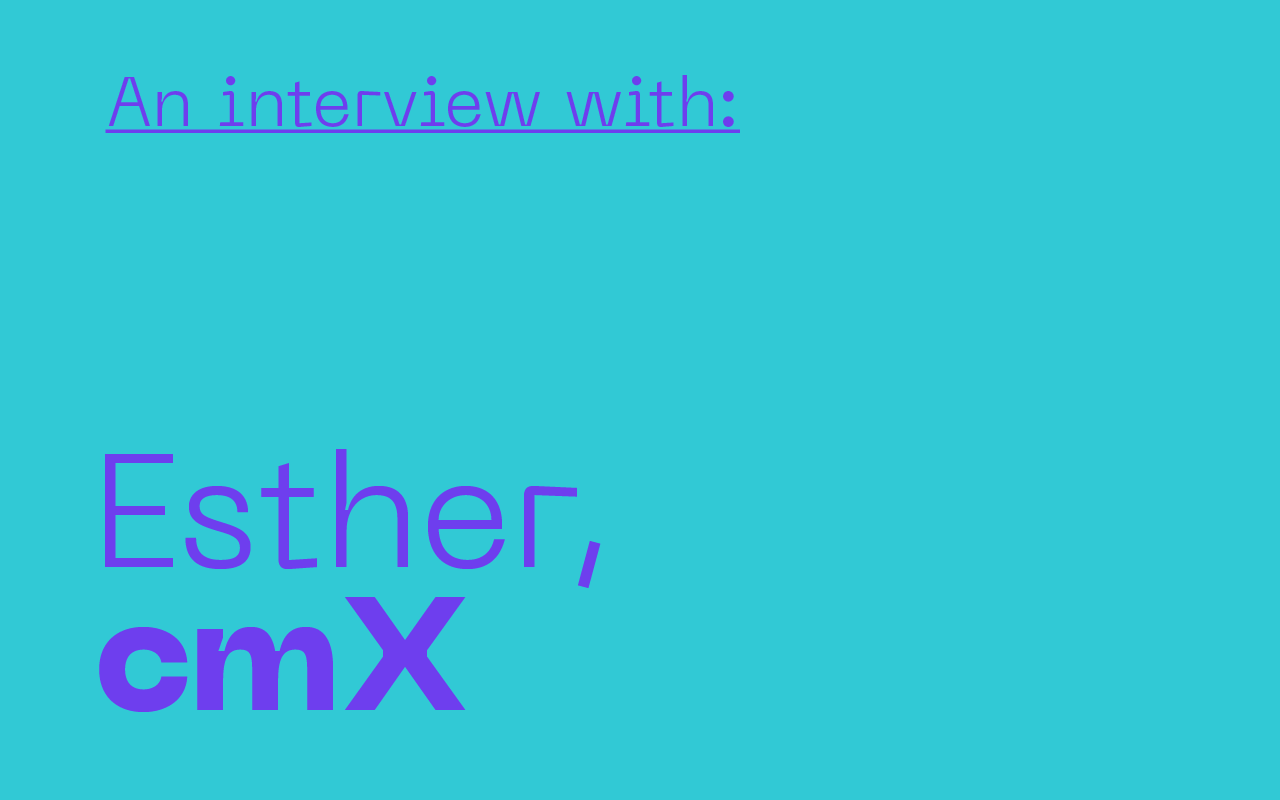 Branding impacts the culture you wish to build for your business. It defines your business model.
1)
As a warm up question… What's it like working with Somewhere Else (SE)?

It was the perfect fit — we were looking for a strategic partner who could create and translate our new brand vision into the right strategic positioning, for our first retail innovation hub globally.

When we first met SE (and given that the brief was quite abstract!) we felt they were the right team given their experience in first-to-market projects that were cross-disciplinary and unconventional. CMX Innovation Hub was also meant to facilitate transformation for our organisation, and throughout the partnership, SE was able to understand not only the strategic value of our plans, but also augmented our vision and delivered beyond expectations.


2)
What did we do together?
The ask was to formulate a blueprint for retail innovation / branding, and key communication materials for internal and external stakeholders. SE's blueprint captured our strategic vision well, and was supported with succinct, actionable frameworks for the transformation.

One of the key highlights of their work was the CMX onboarding video. The art direction was uniquely refreshing for the retail industry, and the narrative spoke to our target audience. The onboarding video never failed to inspire each time it was played.


3)
Describe the challenges that we faced at the time.

The key project challenge was to translate our retail innovation vision and business objectives into impactful visual communication tools. These had to effectively communicate to a diverse group of multi-disciplinary stakeholders within the retail and digital ecosystem.


4)
If we had a chance to do it all over again, what should we do differently?

I think we could have had more fun in pushing the creative process, if we had more lead time before launch!


5)
What has been the biggest obstacle throughout the project towards your goals?

It was the timeline more than anything else. Due to the short lead time to go live, we had to shorten the strategic alignment and creative process.

6)
How has your understanding of branding changed over the years?

My fundamental attitude towards branding remains unchanged. Branding is not just an aesthetic exercise, but brings to life a unique experience for customers — such as the brand re-positioning work for Funan that I was involved in. It's about understanding who your customers are and how your brand relates to them throughout their journey, and interacting with them via key touchpoints.

It's also about being relevant to your customers' lifestyle needs, wants, ever-changing social norms. It's critical that brands provide only relevant content — many folks underestimate the effort needed to create this. We are still behind the curve in my opinion.


7)
Do you think branding affects business trajectories? Why/why not?

Definitely. Branding impacts the culture you wish to build for your business. It defines your business model. With the CMX branding, we wanted to inspire a diverse group of stakeholders to rethink technology's role in traditional retail domains. The CMX brand framework guided our stakeholders across different divisions such as IT, retail management, marketing, leasing etc. It helped us build new relationships with key partners in the digital ecosystem.
8)
Do you think branding affects business trajectories? Why/why not?

Certainly — with CMX being a new retail innovation project, we had to assemble a multi-disciplinary team from internal and external resources. We needed people who could build new retail models at the intersection of technology and lifestyle. The CMX branding framework guided our assessment of domain expertise and skillsets required.


9)
What else do you think good branding impacts?

With good branding you are able to build a community who share the vision — regardless of the challenges ahead. A good brand strategy can enable the team to break new ground, and even inspire others in the community or ecosystem to come together — a scalable positive network effect.


10)
What new challenges do you see for brands, looming on the horizon?
To be authentic and true to your values. How can you differentiate yourself uniquely, and have a good reason to exist? Are you fundamentally bringing value to people in any way?


11)
Any advice for young brand managers, or business owners, especially in these tough times?

If you are helping someone develop a brand, you really have to believe in the outcome you want. With CMX, we were building an innovation facility in iterative, modular ways. The focus was putting the team through the innovative process. We didn't have a typical SOP on how to get there; we were experimenting with different ways of building new retail models. But we were clear on the end outcome we wanted to achieve. That openness to an adaptive process, and shared belief, helped us to power through all sorts of uncertainty and challenges to achieve a positive outcome with our partners.

So, stick to your guts, and don't lose sight of your vision — this will help you to be confident and adaptive throughout the process, and power through to get the help and buy-in required.


12)
Last burning question… How in the world did you end up choosing us, over all our very talented competition?
We had a few agencies in consideration; for such a transformation project, we needed a design partner that believes in transformation, and one that we could trust. Somewhere Else fits this profile well—most importantly, you were not afraid to embrace a challenging brief, ride with us on this journey, and translated our brand vision effectively into reality.
---