As an enduring brand of 30 years, find out how The Blue Ginger has managed to navigate the changing times.

heart 2 heart with...#05
---
…branding efforts sometimes outpace the quality of the product. It is important to ensure that the quality of the product matches the branding...
1)
As a warm up question… What's it like working with Somewhere Else (SE)?
Working with Somewhere Else was a breeze, I would like to think my brief was clear and concise. The team understood our needs clearly and delivered splendidly.


2)
What did we do together?
The rebrand of The Blue Ginger. A total rework of our identity and reframing of our brand story.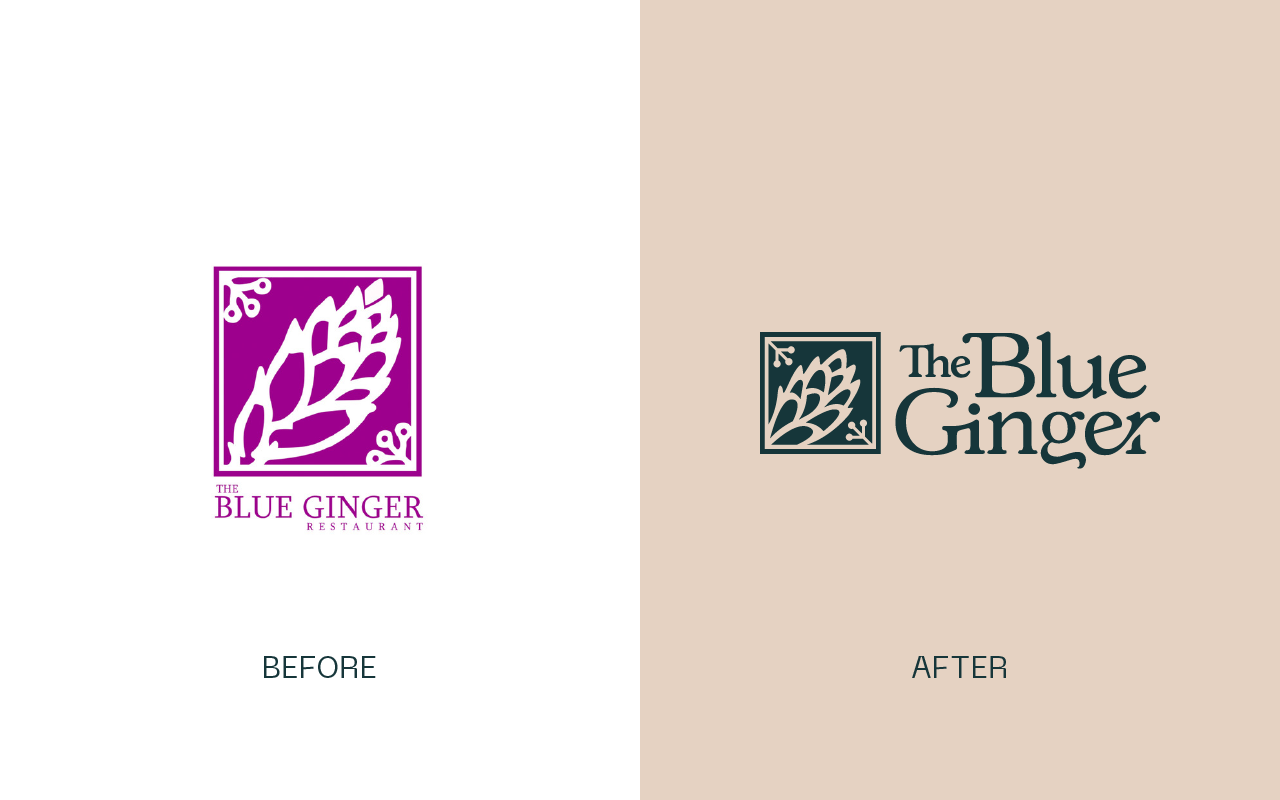 3)
How did you come to embark on this journey of reinventing the family business; Did you spot a gap in the market?
It originally started with wanting to start an offshoot of the brand, which morphed into a rebranding as we realised that we wanted to build a stronger brand presence and foundation in which to build other concepts off of. We also saw that as a brand which has been around for 25 years, we were lacking in brand presence against the other players in the market.


4)
Describe the challenges that we faced at the time.
As the brand is rather old, there was a lot of hesitation and unwillingness to disrupt out of sentimentality to the previous identity.


5)
If we had a chance to do it all over again, what would we do differently?
I would do it the same, as it really aided with revitalising the brand. If i had to change one thing, I would make the brief even more concise, with clearer wants. In hindsight, I feel that how we started off was too broad. We'd initially wanted to create a totally new brand but later decided to focus on the main brand.

We should've isolated the objectives better so we'd have better focus and a different sequence; pushed the identity further to be even more attractive and then plan out a longer service improvement program. While we want to update the experience for our diners, it turns out that too many processes have been baked in and are hard to revamp overnight. Things like empowering our staff to do service recovery is totally new to the team and it takes longer than we expected to inculcate.


6)
What has been the biggest obstacle throughout the project towards your goals?
The biggest obstacle would be managing cost, with a project of this size I would have allocated more funds and definitely approached it slightly differently — would attempt to use more grants in the future.


7)
How did you overcome it?
I carefully managed costs where possible and found alternatives when costs could not be reduced further.


8)
What does a good brand mean to you?
A place that can be trusted to consistently deliver quality and taste.


9)
How has your understanding of branding changed over the years?
It used to be built on word of mouth, to "build it and they shall come", but now you have to build it, then tell people about it, and maybe they'd come. We definitely have to take more pride in the branding and history of our brand and nurse its evolution over the years.


10)
As an enduring brand of 30 years, how did the brand manage to navigate the changing times?
We have always relied on word of mouth and our reputation which was built over the years to carry us. While this continues to work for us, things have indeed changed and we must improve further.

For the last 2 recessions, we almost anticipated them; we knew they'd hit hard but at least we could foresee them. I was in Australia during SARS, the fear then and now

In 2008, the day everything crashed, we had contingencies we could kick in but now, there's so much uncertainty. At the end of the day, we're glad that people still trust our brand — that our food continue to meet their expectations, it's our brand promise that's keeping us strong over the years.


11)
What was most effective for you in riding through Covid-19?
While SARS was really bad for Singapore and we've had our close shave, it was indeed troubling going into COVID-19 with 2 outlets, yet this rebranding builds on our reputation and has actually put us ahead, in a better position to move forward so we're able to weather this storm better.

We worked on this project in the last quarter of 2019, with an opening in January 2020 so when COVID-19 hit, our branding and marketing efforts were at its peak, and that carried over into the people's mind space. As much as we lost the ability to serve food within the restaurant, we overcame that by quickly capturing demand for delivery with quality of food and continued with our marketing efforts.


12)
How do you intend to maintain the integrity of the brand?
Periodically, we have to keep the brand fresh — that's my biggest worry now, how to keep ourselves current and stay relevant. We have survived the past 25 years on the strength of our dishes but for the next 25 years it's a different playing field. We have to watch the trends and understand the changing behaviours, while still keeping a watchful eye on what we have — not to take past successes for granted. One example is that we're building stronger relationships with our suppliers while bridging new ones to access the freshest ingredients for our diners.

Over the last 5 years, no, in this last year alone, the landscape has shifted so much. Especially with the rebrand, it has reinvigorated and changed our customer profiles; attracting new audiences. Now people are even comparing us with VioletOon and Candlenut; that's what the rebrand has helped us achieve — a better brand position. Especially significant since our brand has never been in that consideration set. We've distanced ourselves from our lower-priced competition!


13)
What new challenges do you see for brands, looming on the horizon?
There's an ever-growing number of new entrants in the F&B space and the Peranakan space. Our biggest hurdle would be to maintain our little corner of the market that we have built over the years. Picking our battles when we compete. In this age of start-ups, where branding efforts sometimes outpace the quality of the product. It is important to ensure that the quality of the product matches the branding.


14)
Any advice for young brand managers, or business owners, especially in these tough times?
First things first, COST. Always manage your cost. When budgeting for things, add in a buffer, 10-15%. never cut it razor-thin. Always have a buffer for you to wiggle in.


15)
Last burning question… How in the world did you end up choosing us, over all our very talented competition?
When I first met the team, I had a crazy idea that would change the way we approached coffee drinking. Ultimately, after doing more research, the idea didn't make sense financially. I liked Somewhere Else's previous works and it really resonated with what I wanted with The Blue Ginger rebrand.


---