Branding and brand strategy for The Blue Ginger restaurant, a 25 year old family business in Singapore.
THE BLUE GINGER RESTAURANT
What Does Tradition Mean Today?
Inheriting a 25-year-old family business means renewal and change — and a truthful accounting of where you stand.
We rebranded a beloved but faded Peranakan restaurant, updating their offering to be competitive in today's marketplace.
READ CLIENT'S INTERVIEW︎
©THE BLUE GINGER RESTAURANT
When it comes to Peranakan food, strong competitors now fill the local F&B landscape. Other Peranakan restaurants have higher prices with better service, or lower prices with food that's just as tasty.

Peranakan food is popular not just because it's Peranakan. It draws people in with rich, hearty, satisfying flavours. It is comforting, familial, and unpretentious. For The Blue Ginger to rise above the competition, we fully embraced the Peranakan spirit, without falling back on tired motifs.



Anatomy of an Experience

To build a base of research, we dined anonymously at The Blue Ginger and its competitors. This allowed us to map out our dining experiences across the board. Our research revealed gaps in the brand experience — shortfalls between expectations and reality — that we targeted in our refresh.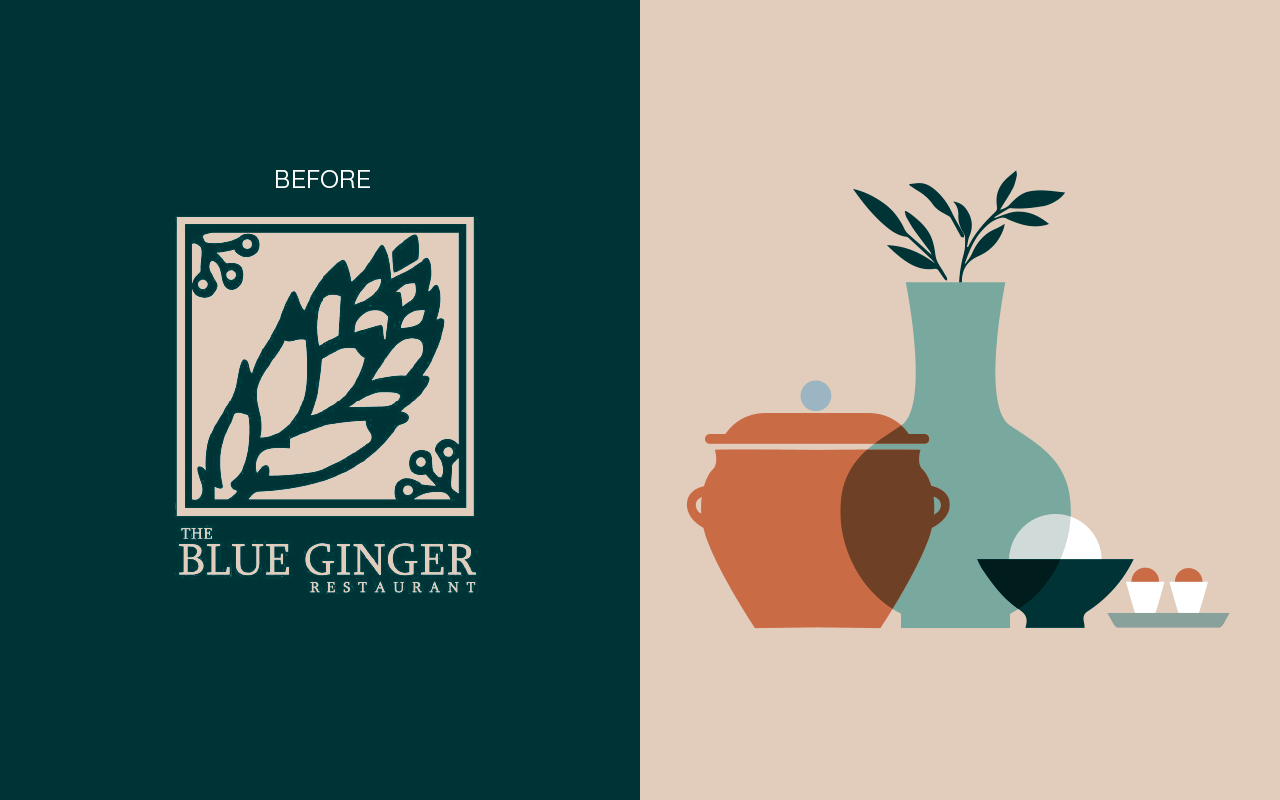 Peranakan motifs don't have to be the same old tiles and leaves. In our identity refresh, we highlighted colours and themes associated with a traditional Peranakan home. Instead of the standard motifs, we rendered an abstracted, contemporary graphic language that spoke to a younger generation.
Across our collaterals, The Blue Ginger's inviting brand voice acts as the maternal figure in a Peranakan household. It is welcoming, nurturing, and always wants you to eat more.
The brand voice does double duty of conveying The Blue Ginger's personality, and filling in gaps in service that would be logistically difficult to address, like educating diners on Peranakan cuisine.
Research, Brand Strategy, Visual Identity System, Brand Collaterals
By empathising with The Blue Ginger's core values and preserving them throughout the brand refresh, we built mutual trust and respect.

In the F&B space, many restaurants approach a re-brand as a new coat of paint. They rarely examine the underlying offering and service standards. By accounting for the holistic health of the brand, we successfully updated a proud and respected member of the Peranakan dining community.

Need help with your visual identity or brand strategy?

CONTACT US
︎
---