An Interior Architecture Design Firm Puts the Law of Attraction to Test

---
Is your business a disrupter? Is it friendly or cold? Or one that's set on being socially and environmentally responsible? Arriving at this clarity is crucial for brands, especially in this day and age—increasingly, people are on the hunt for brands with values that reflect their own.
Think about the people at Google and likely what comes to mind are inquisitive souls hacking away at something innovative. This DNA—or essence—is precisely what makes Googlers so distinguishable. Switch that up with Razer and what conjures is likely this gungho energy instead. One that's cutting-edge yet still consumer-friendly, especially with a tagline that goes "By Gamers, For Gamers."
It's simple: With no authentic appeal, people won't be drawn to you at all. Or worse—they might even choose to boycott brands that simply don't fit their values. Either way, it's clear that people are more discerning about spending their hard-earned money.
Brands Are An Extension of Your Personality
Now, let's draw attention to the world of spatial design and how that intersects with branding.
It's painful enough that most corporate offices and shopping malls look homogenised these days. Many of these spaces don't seem like they were created with people in mind at all. Say you need a trash bin to toss your empty cup of bubble tea—at certain places, it can take forever to hunt for one.
It's this practicality—and human touch—that interior consultancy firm,
LAANK,
seeks to deliver. As Founder and Creative Director, Cherin Tan notes, "Spaces are first and foremost, for humans. We believe in giving people practical spaces they actually need; not just what is desired from an aesthetic point of view."
Centre: Founder and Creative Director of LAANK, Cherin Tan
LAANK's mission is simple: Put human needs at the core of everything. This translates in every project they've worked on—ones that span across hospitality, F&B, office, lifestyle and retail environments.
Take the project they did for
Wonderlit,
a children's speech and drama enrichment centre. Beyond creating a space that's solely functional, LAANK went above and beyond by adding an element of "wonder" for the children there.
Instead of conventional walls that segregate classrooms, free-form arches and blobs were used to create a space akin to a wonderland of sorts. These help to add a childlike and whimsical touch as kids navigate within a stimulating environment. They're beyond decorative too; these are features that simultaneously function as writing surfaces as well as backdrops for performances and video recordings.
Of course, it isn't that easy to arrive at the root of a problem. LAANK's strength lies in detail and empathy—things that are very often missing in a cutthroat industry like construction. How do these values come into play on a day-to-day basis?
It's purely coincidental that most of LAANK's team is made up of females too. That alone sets them apart considering that it's a traditionally male-dominated industry they're working in.
"Our work requires us to be in tune with our emotions," she notes. "We have a great team where we play to our strengths." Ultimately, this trickles down to a
range of projects
that are known to present heartfelt concepts.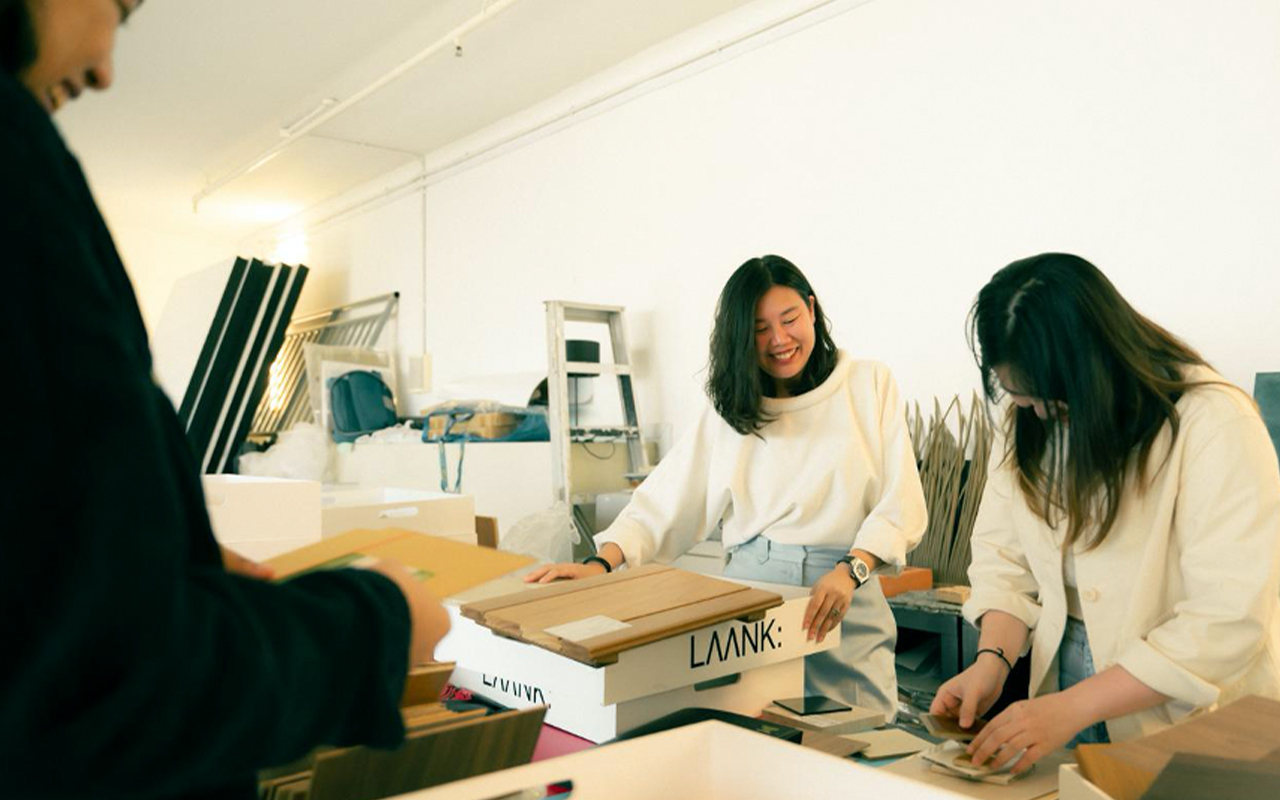 Building on values like reliability, mutual respect and creative collaboration, Cherin adds that it's through thoughtful conversations that they arrive at what's most significant for their clients as well. "Working together helps keep us accountable for what we bring to the table," she offers.
"When we look at our work, we do not just observe. Essentially, we look at what's familiar in front of us, but in a way that escapes most people."
Brands & People: It's a Two-way Relationship
Like with any other relationship, people seek positive values in their relationships with brands. Based on a
report in 2020
, that's 83% of millennials—and they're more than
ready to boycott
should there be opposing stance on values.
When every new iPad or iPhone oozes modernity and simplicity in usage, it's no surprise that Apple fans are the way they are.
Perhaps it's the law of attraction at play—as the saying goes, you attract who you are. Brands like Apple have an uncanny ability to make people feel good about themselves precisely because it delivers what it promises (and more). Take the iPad: a product that comes with no instruction manual at all because of its intuitive nature—press one button and a world of possibilities is for the taking.
People across the world love the brand's "It Just Works" philosophy, and they're more than willing to pay the premium for it. Cherin concurs, stressing that authenticity is something that she sees lacking in today's world of highlights and carefully curated moments.
"It's easy to get trapped in the pitfalls of comparison and one-upmanship," she says. "Authenticity illuminates the path forward. We need to stop being apologetic about who we uniquely are."
That's not to say that deciding on LAANK's DNA didn't come with difficulties. Too many times they've felt pressured to cement definitions against a landscape of competitors. "Instead of subscribing to a particular style of aesthetic or personality, we're differentiated because of our sensitivities. When we finally realised that; it felt right because that's innately who we are."
Of course, positive values trickle down to internal culture too. It's all about mutual respect—a common thread that she points out as a key thing that ties them all together.
The first step, she notes, is to respect one another's time. From her view, ineffective processes and unnecessary overtime are things that need to be overhauled. Just last year, LAANK also started implementing a 4-day work week practice at the end of every month. The ultimate goal? To protect the physical and mental well-being of the team.
"Honestly, there's so much that goes into LAANK. Who am I kidding if I said that the journey didn't come with challenges? It took us years of struggles, but it was necessary for clarity."
There's none of that designer ego in their office, as Cherin points out that it's never a culture of 'my way or the highway'. It further brought home the truth that a good piece of work can only be produced with mutual respect—whether it's between employees or clients.
"To design for humans, we must first be one too—this applies to the people we hire and the clients we work with."
Dull, Quirky, Fun? You'll Have to Decide
When in search of a potential partner, people need both rational and irrational reasons as to why they should pick you over others. It's no secret that humans are more inclined to like someone when they are similar to themselves. Odd as it sounds, brand identities and Tinder profiles aren't that different from one another. B2B brands especially need to start thinking of themselves as relatable personalities in relation to the very people they want to attract.
As Cherin puts it: "If I purchase a software or sign up for a service, I want to know that it simply works as promised. That I can trust you to take care of me because you actually give a damn."
Just like people you meet through dating apps—any disjoint in personality can and will be felt by others. Perhaps, the problem lies in how some brands may see themselves as simply service providers, or employers and nothing more. "When that happens, it becomes purely transactional and that makes it hard for authenticity to come in," she concludes.
It's only when a brand adds a human touch that it lends loyalty. And isn't that what we all want at the end of the day?
We journeyed with LAANK to shape their internal clarity, find out more
HERE

︎
---