Extensive brand identity system to strengthen foothold in the market for Chinese EdTech pioneer
LINGOACE
Standing Out in a Sea of Look-alikes
People all over the world are facing an unprecedented change, with many having to suddenly adapt to learning remotely. With this surge of demand, a previously quiet arena has quickly intensified with new providers entering.
As a Chinese EdTech pioneer, it was vital for LingoAce to quickly widen the difference between them and their fledging competitors as a wave of online platforms hit the market.
While already miles ahead in terms of curriculum development and teaching methods, LingoAce needed to strengthen their brand to signal their difference better so as to secure a top spot in the eyes of their customers — parents.
As an online brand, first impressions are fleeting, and parents have to look harder to discern between competitors that appear mostly similar.

LingoAce is a global brand with a solid track record backed by dedicated teams working on content and native Chinese teachers — but in their rapid growth, their brand identity became weakened by inconsistencies; hindering the communication of their strong product benefits.



Bridging the Parent-Child Divide
In the world of online Chinese learning, there's typically two camps to choose from — serious, cram-school type tuition classes and fun, casual apps that gamify concepts but lack the depth that students need to really excel.
LingoAce understood that while parents are keen for their child to retain/gain authentic language capabilities, old-school methods are no longer compelling to a new generation of tech-savvy young learners.
Balancing engagement with effectiveness, the brand bridges the expectations of both parent and child with a modern learning platform and curriculum that's engaging for young learners, but authentic for serious parents.
Building on the Foundations of the Brand
In early discussions with LingoAce teams, it was agreed that to maintain core parts of their identity it was best to build on existing brand recognition instead of a complete makeover. Therefore the logo was refined to improve legibility and brand colours were accentuated to build differentiation against the competitive landscape.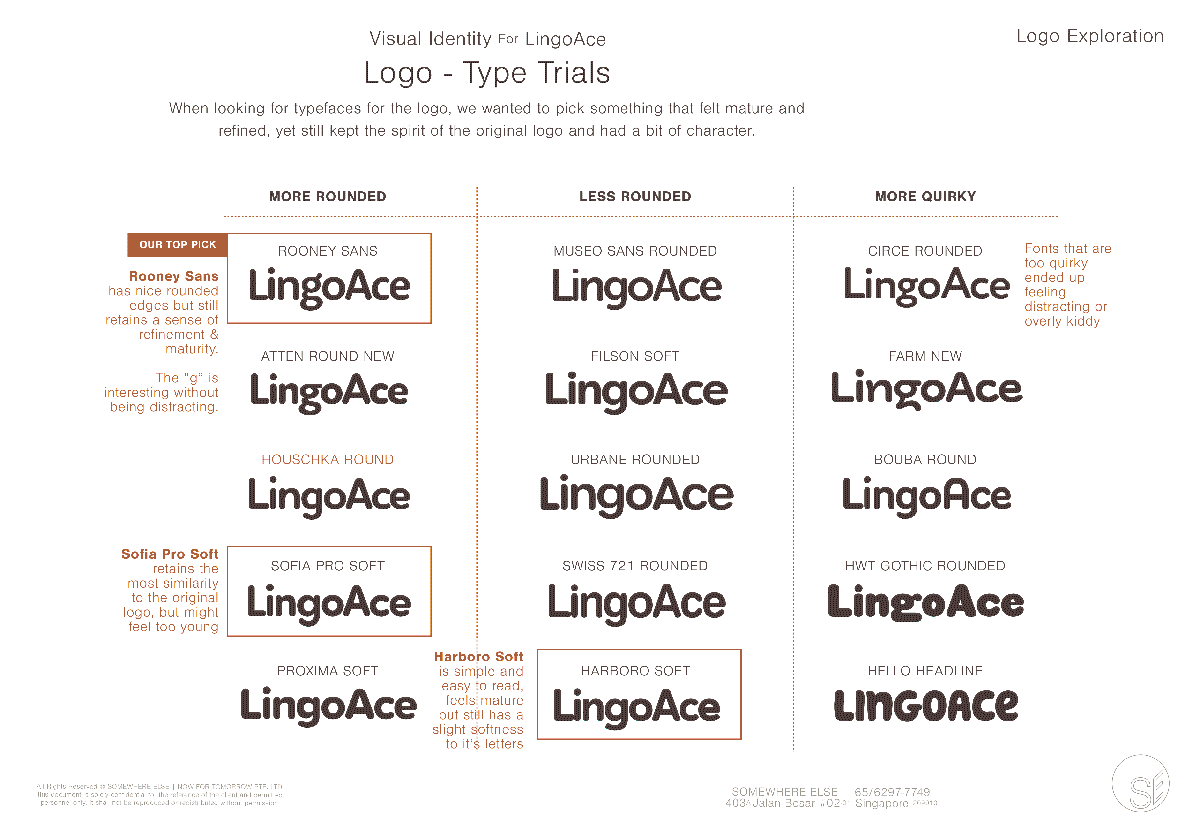 A Flexible, Extensive Visual System
With an ever-extending range of touch points, creating a cohesive identity system that could flex and evolve to suit various teams and markets without becoming repetitive was our key priority.
As an expression of the harmony reached by LingoAce's careful balancing of contrasting sets of needs, we created the Link, which also represents connections that come about through the learning a language — be it a connection to knowledge, to one's roots, to technology, or to a world beyond one's culture.
Throughout the brand expressions, these graphics evolve and unfold, giving in-house designers room for creativity and endless possibilities with less room for dilution.
Letting User Experience Lead Design
As a brand that caters to and communicates with a spectrum of users with varying needs —from parents to young children and older teens, the graphic system was designed to evolve, stoking a balance between serious and playful when used at different scales.
Informed by user expectations at each touch-point, their designers can vary the visual identity as needed to achieve different goals: from standing out, to expressing credibility and authenticity.
EdTech Brand Identity, Guidelines, Visual System, Digital Templates

In just three months, we worked closely with LingoAce like an in-house partner to translate their new brand strategy into a visual system compiled in a comprehensive brand guide that will accompany the brand and all their teams as they align internally and across markets — cementing their leading spot in the market. Meanwhile, we continue to work with LingoAce by supporting brand management efforts.


Need an extensive brand identity system to strengthen your foothold in the market?

CONTACT US
︎
---