A 3-month internship revisited in her own words.


My Experience Somewhere Else: Felicia

---
I spent 3 months as a design intern with Somewhere Else from May to August this year. Before entering SE, I had no other prior experience, other than a short lived internship at a spatial design company. I stumbled across SE while stalking through other design companies on Instagram, and first got drawn in by the rather quirky name. After researching on who they are and what they do, I was taken in most by their cheeky and playful personality. I also admired their keen focus on people and cultivating empathy, something that I don't really see being highlighted in other design consultancies. Hence, I decided to give it a shot.
Another moment that stood out to me happened during my interview. It may be a normal occurrence in interviews, but I really appreciated it when they asked me to list out 10 things that I want to learn and gain out of the internship. I'm not sure if other studios do the same, but this at least indicated to me that they truly care about their interns' experience and make it a point to listen to our wants as well. This pretty much sealed the deal for me, and I felt reassured that I would be in good hands.
Upon entering SE on my first day, I had no expectations on what I would be doing; but I vowed to keep an open mind and learn as much as I can. I was pleasantly surprised to see a fellow LASALLE classmate Zavier working as an intern here as well.
After the 3 months, the things that I managed to partake in were diverse, ranging from video editing, image-making, illustrating, logo development, and even primary research. My job mainly involved contributing to the developmental process and supporting the team with ad-hoc tasks. Besides these, SE also conducted a Branding 101 weekly workshop in the first month, and a self-initiated project for their interns called Project X, an ongoing series that challenges us to explore possibilities of near-future brands.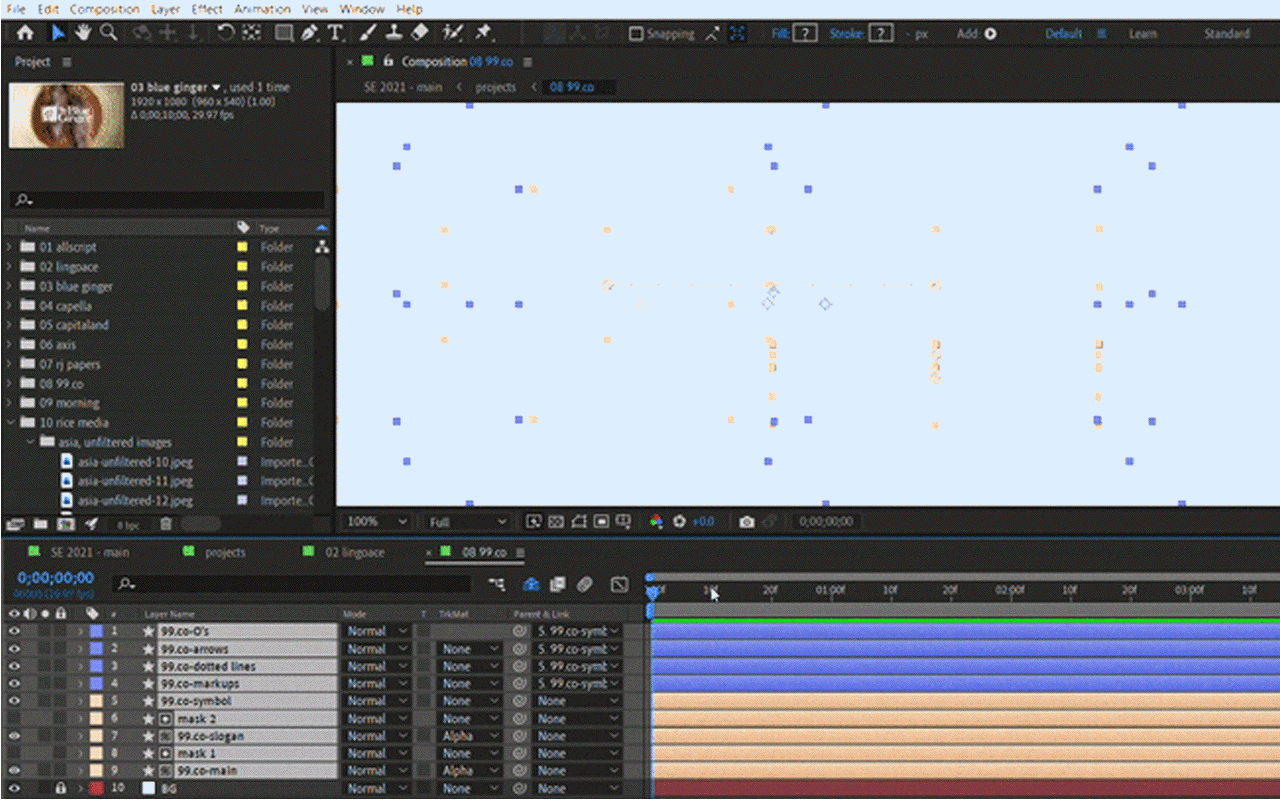 The biggest (and the first) project that I worked on was the SE showreel, where I was tasked to update and refresh their old one to have a better tone of voice and personality. This showreel is meant for internal use, where it will be shown to potential and/or new clients as a way to introduce themselves and what they do. I was responsible for almost the entire video-making process, from music selection, video sourcing and creating motion graphics.
In a way, SE became my first actual client, with Yong — the creative director — being my main point of contact and source of immediate feedback. It was definitely not an easy feat, having to think of different ways to showcase the best aspects of each featured project, and animating all the components mostly from scratch. The whole process took me about a whole month to complete, and I sure felt accomplished watching the finished reel, knowing the effort I put into it. (I hope it ages well!!)
Next, I also helped out with creating several sets of visuals and social media posts for BREAD, a financial media platform. I quite enjoyed this process, as I got to create surreal collages that mixed both found images and hand-drawn illustrations together to communicate the main idea of the news article in a metaphorical way.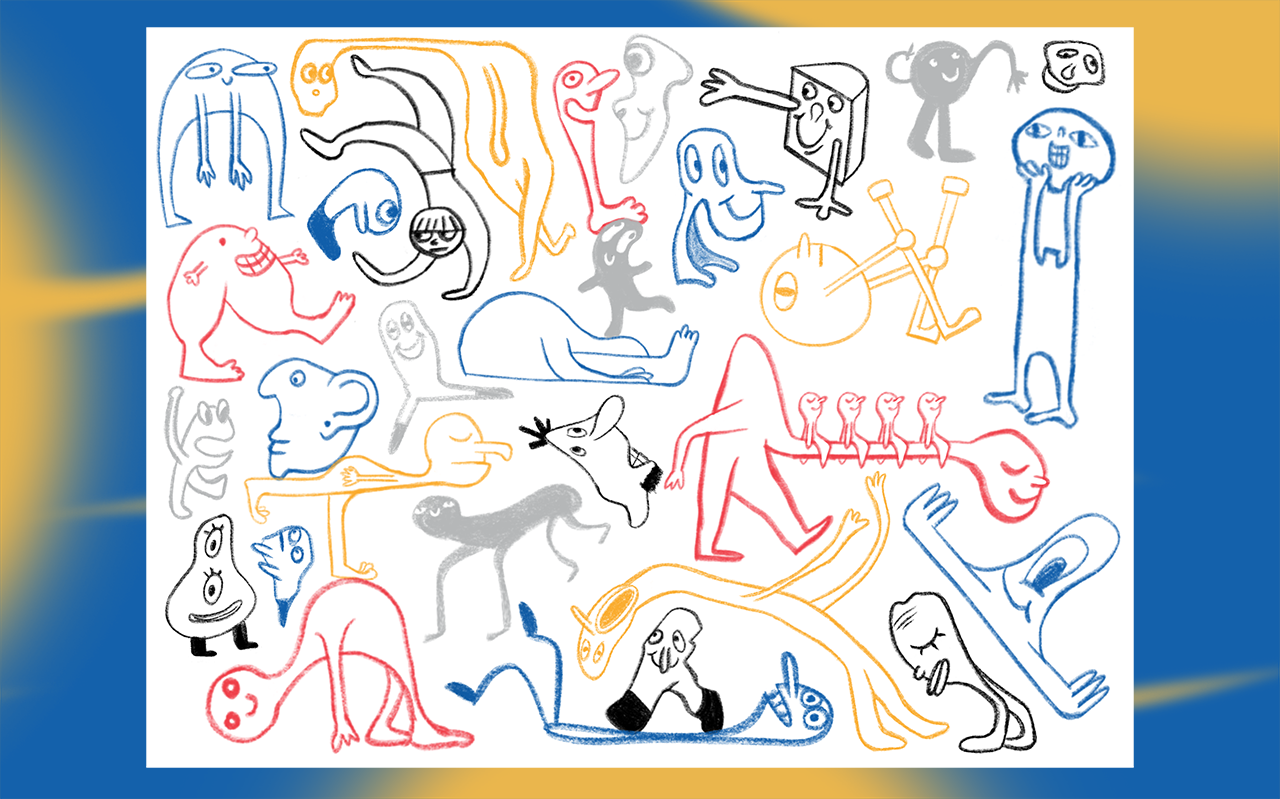 For illustration, I aided in several different projects, the first being mural design explorations for an internal project. The brief was very open, and conceptually it was all about expressing SE's rather eccentric spirit. I had fun drawing little weird creatures, playing with usual shapes and facial expressions.
I also helped in the logo rebranding process for a Japanese restaurant where I assisted in the exploration phase by drawing different logo variations based on the client's reference image. Many iterations were made, with several permutations of different visual directions. This process taught me to prioritise exploration over refinement at an early stage, something that I think many designers struggle with, especially if you are a perfectionist. At this stage, it is more about providing a spread of possibilities for the clients, rather than how pretty the design looks, as crafting details of the logo comes further on in the process.
The more unexpected tasks was the competitor and ethnographic research that I did for a new brand and an existing retailer respectively. I was unfamiliar with doing competitor research in the FMCG market, as it was not really taught in school. I got to learn about direct and indirect competitors, understanding the competitor landscape and seeing SWOT analysis being applied for a real client. As for the ethnographic research, it was interesting to learn that the act of observing is also a skill, and not just mere stalking. In this case, I learnt how to observe customer behaviour on-site in order to understand the retail experience of an existing brand. It was a novel experience, although deliberately standing around and deciphering people's actions felt pretty awkward to me at first.
Moving on to the lessons and workshops we did, I actually really enjoyed the branding mini-course that was held in the first month, conducted by Danielle. We were taught the building blocks of branding, starting from value proposition and mission statements, understanding a design brief, identifying audience psychographics, crafting a user journey map, understanding components of a brand identity, creating effective mood boards, and ending off with creating our own brand, which we pitched to the whole SE team.
What I came up with for my brand was a new snack product called Swole Serve targeted for millennial health enthusiasts; a low-calorie, protein-rich ice cream bar. Think of it as an upgraded and more exciting version of protein shakes. I crafted the brand purpose and mission, as well as 3 different mood boards capturing different personalities. After the 4 weeks, I had a much better insight into the overall architecture of creating an effective brand, from idea to execution.
We also had a typography workshop of sorts, where we focused more on typography as a concept rather than zooming in on technical details behind the design of typefaces. Yong showed us many of their past works—from editorials, stickers, merch items and packaging—to illustrate and explain the rationale behind different typographic choices. It made us look at typography from a broader perspective, making us think first and foremost of the intention of the design work before making those choices.
The last big project was doing Project X. The project's theme was regenerative branding, where each intern was given a different brief and tasked to create a brand solution that had a regenerative purpose and mission. In a nutshell, regenerative brands aim to have higher aspirations for society and challenge the status quo by designing for issues of the future. While speculative in nature, the projects were grounded in real secondary and primary research, albeit not extremely intensive, since we only had 6 weeks total from initial briefing to final execution and documentation.
Each intern was grouped with 2 other members from the SE team to guide us along our project development and give constructive feedback. My brief was on creating a holistic pet shop brand that educates and supports pet owners in Singapore. To be frank, I struggled quite a bit in the first few weeks, as I had trouble narrowing down a specific problem faced by the pet industry in Singapore. But the team helped me in my thinking process, and I settled on new dog owners as my target audience. From there, I proposed services that cater to this group by outlining their needs and wants. Alas, the end result is
The Dog Pod
. It was also nice to see the outcomes from the other interns and see how they visualised their work, from hand-drawn illustrations, app mockups, and interior space visualisations. This was a difficult challenge, having to condense a full-blown project into 6 weeks, but it definitely instilled us with valuable skills like time management and managing priorities.
All in all, I'm grateful for spending my internship at SE. Throughout the 3 months, I can confidently say that SE is made up of really cool people who are genuine and kind, and sometimes a little wild. I appreciate the wisdom imparted by Yong during our lunchtime and typography workshops, and the random stories sprinkled here and there by the team. Thank you for taking me under your wing!!
---