Breakthrough brand identity for a new challenger product
Brand Strategy, Value Proposition, Brand Messaging, Brand Identity, FMCG Packaging, Collaterals

OATBEDIENT

TAKING ON BIG GOALS WITH A HUMBLE IDENTITY

Today, people are gaining awareness that our individual choices affect our health and the world in a multitude of ways. It's hopeful to observe that many have an ever-growing interest in responsible products and this tide has encouraged businesses to do better to support changing demand.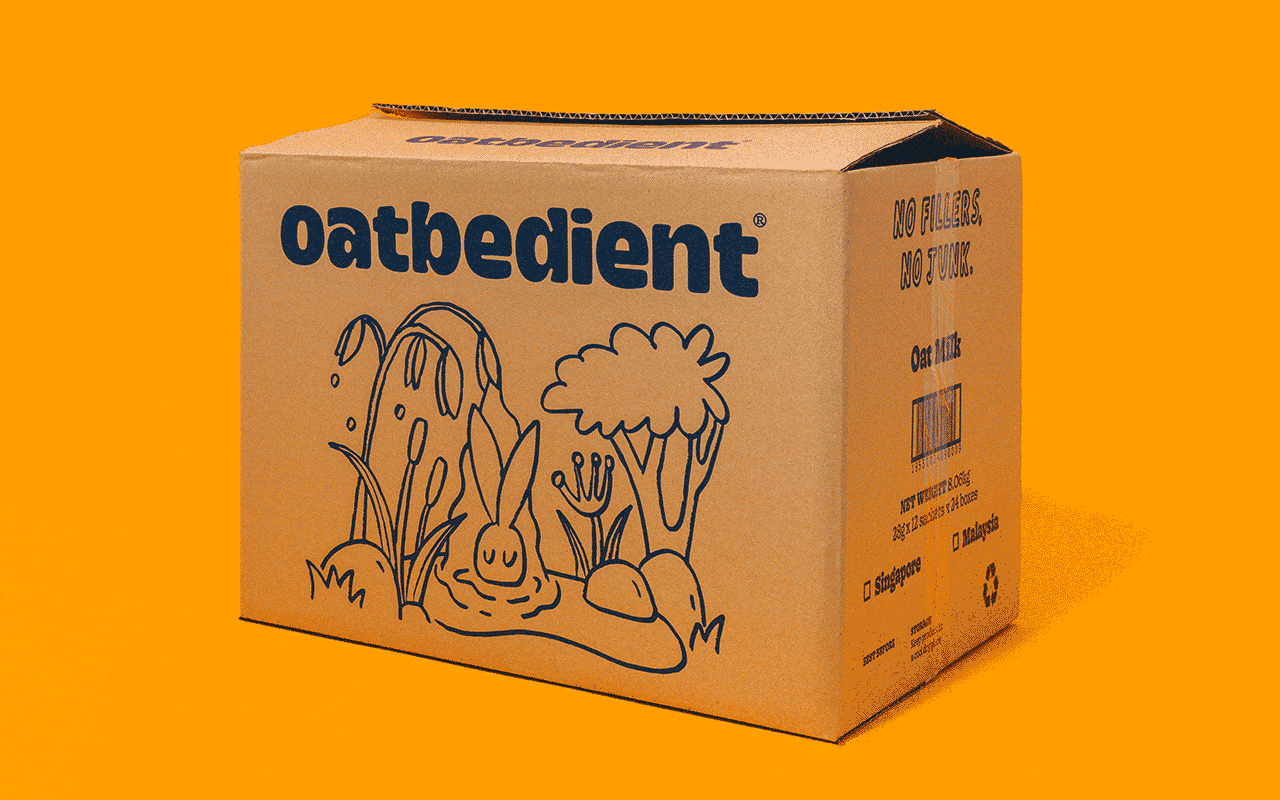 Oatbedient has a delicious product (unanimous thumbs up after our taste test!) with great, quality ingredients, however, we all knew that it wasn't enough to stand out, not just in the alternative milk space, but in the saturated mainstream market. And so began our mission to develop a heartwarming identity that sparks curiosity and would encourage more people to make a switch.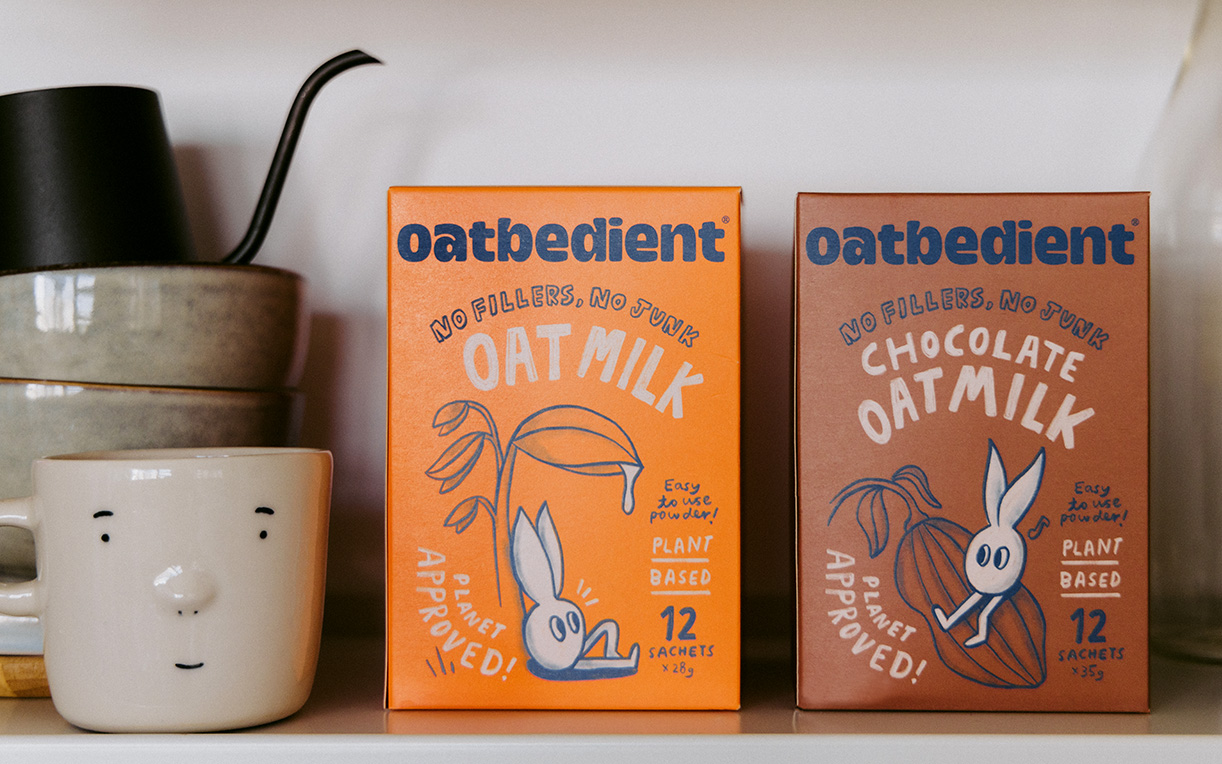 Leading the Brand Hearts First

When we first met with the founders of Oatbedient, we were moved by their earnest desire to create a product that was truly better for our bodies, not just a greenwashing marketing ploy.

Their goal? To be a well-loved brand providing the best nutrition through delicious, clean, plant-based products and simple, truthful communication with their customers.
For People, by People
Big brands don't have to lose their humanity. We knew we wanted to help build one that's the antithesis of cold mega-conglomerates that dominate the food industry.
Oatbedient strives to one day be a globally trusted brand for the everyday person, whether that's at home or in schools, hospitals, and offices. They stand firm that even as they grow and scale, they yearn to keep connecting directly with their customers through personal channels, so that they will always stay relevant and accessible to the next generation.
In shaping the visual identity, we took a personable approach that aligns with this promise —creating Oatdit, a humble oat grain character whose wide-eyed view of the world is simple and blissful—accompanying you on your everyday adventures as it explores and enjoys the best that nature has to offer.
At this juncture, we knew we had a brand that could relate to just about anyone.
In wanting the brand to stand out, we initially toyed with louder expressions which we soon realised, would not only add to the noise but was less than relatable. Instead, we stuck with the obvious and focused on the brand's truths, keeping the tone honest and imbued it with the founders' warmth instead of being overly exuberant or edgy.
Complimenting the voice, the secondary typeface was meticulously developed—hand-drawn with a chalk-like texture that's rough around the edges to accentuate
that
personal touch of "from our family to yours".
Setting New Standards
Oatbedient started with a simple idea... what does a delicious, no-nonsense product we'd gladly feed our own families look like? Convenience and affordability shouldn't equate to fillers and junk.

We took this to heart when designing for the brand across collaterals and platforms—with careful attention to building touch points that delight at every step of the way. When customers take the effort to choose a product because they believe in it, they deserve to be rewarded with an equally thoughtful experience.

Brand Strategy, Value Proposition, Brand Messaging, Brand Identity, FMCG Packaging, Collaterals

By working closely and collaboratively with the Oatbedient founders; we arrived at a refreshing, delightful brand identity that stands out because of its universal appeal.

It's a brand identity that reflects their vision of a world where genuinely healthy products and clean labelling are the norm, displacing a world of fillers and nasty ingredients.

Equipped with a cohesive identity, packaging system and an extensive library of custom assets, Oatbedient is poised to win fans and ready to help even the less discerning customers understand that they too, deserve more from the products they are purchasing.

---