Bringing History to Life: Experiencing East Asia's old mythological creatures beyond artefacts

Project X: Realm Of The Strange

---
Contributor
Sabelle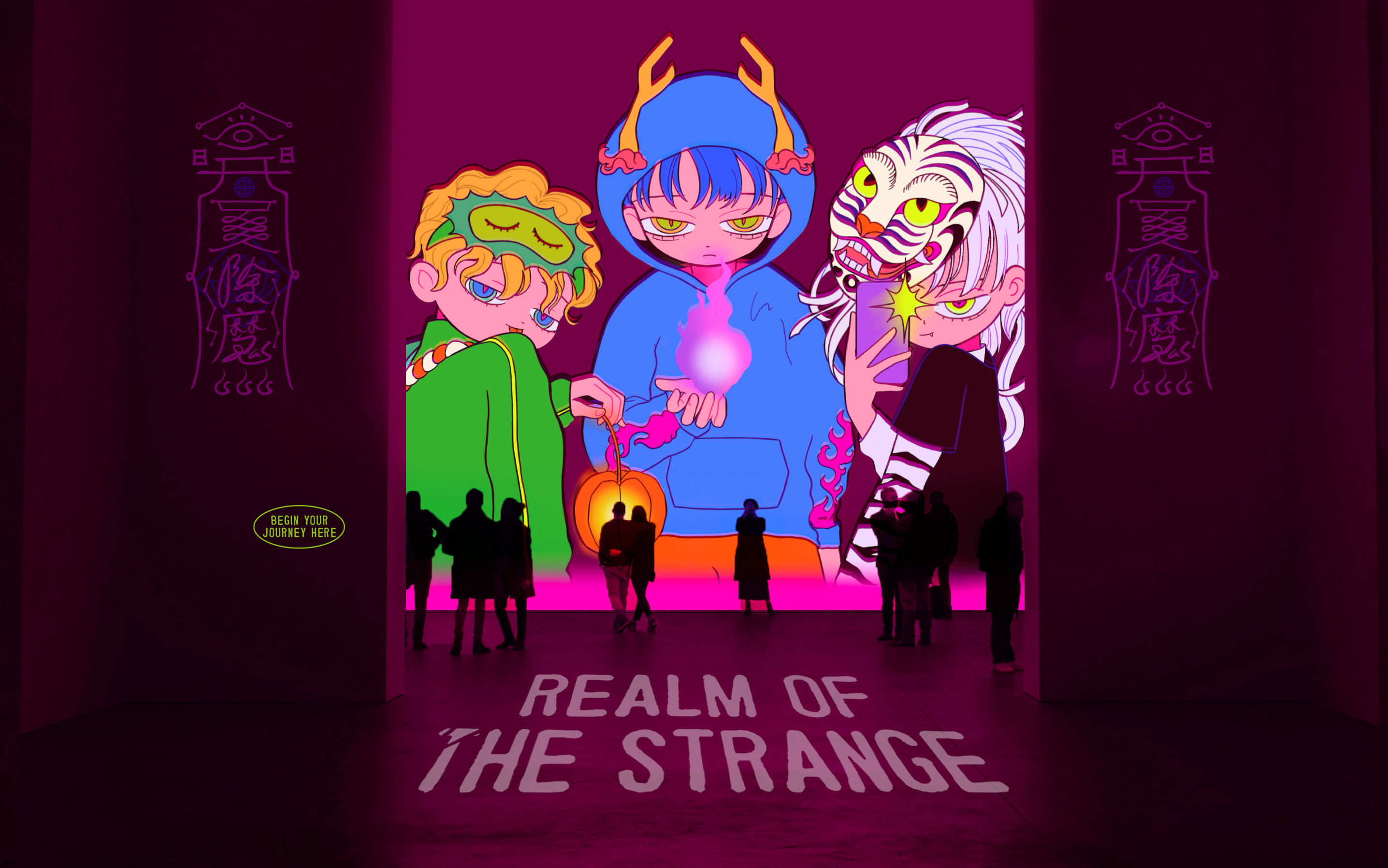 ©Somewhere Else
Since ancient times, East Asia's mythology has weaved itself into our art, cultures, and religions. These mythical creatures now live on in today's popular culture in the form of fashion, games, literary and motion works.

Realm Of The Strange is a fictitious exhibition concept for Asian Civilisations Museum centering on mythological creatures from East Asia where we envision an experiential space that integrates old and new art forms. It is an exhibition that celebrates humanity's age-old fascination with these strange and curious beings.
In collaboration with contemporary artists, the 360° immersive exhibit is created with Yuko Shimizu in mind.
The younger generation is no longer content with the traditional museum experience.
As a generation of people that crave novelty and unique experiences that involve exploration through interaction, static displays of artefacts alongside walls of text aren't enough to pique their insatiable curiosity.
Being primarily a museum of antiquities with largely static exhibition formats, ACM may find attracting and engaging with this younger audience a challenge.
For an audience that already creates and curates their own art—from photography on their Instagram pages to videos on their TikTok accounts, virtual relationships are as tangible as physical ones.
As such, this exhibition concept offers them a live art experience that seamlessly merges the two.
Breaking down the elements from the talismans from Japan (Ofuda), China (Fulu), and Korea (Bujeok) to create a
unified one for Realm Of The Strange's tickets.

A space of old and new, of physical and virtual.
Realm Of The Strange showcases artefacts as well as contemporary and digital art installations. In a fresh twist, these artefacts are no longer still and quiet but come alive by augmenting reality. The exhibition is an immersive space that comes with stepping into a 360° Hyakki Yagyo and other participatory experiences.
An identity that matches the voice of pop culture.
Cheeky graphics interpreted from representations of mythology commonly found across current pop culture are used to represent East Asia's mythology. Three humanoid mythical mascots, representative of Japanese, Chinese and Korean origins respectively guide visitors through their journey into the Realm Of The Strange.
From left to right: 河童 Kappa, 龍 Chinese Dragon, 장산범 Jangsanbeom

As such, this exhibition concept offers them a live art experience that seamlessly merges the two Realm Of The Strange offers broader insights into these creatures we typically see in pop culture. We want to entrance and educate people through an interactive and otherworldly experience. We hope this experience would be a starting point for visitors, especially the younger ones, to develop an interest in the colourful mythological history of Asia and become keen returning visitors of ACM.
In the near future, what will people need and expect from brands?
Project X is an ongoing series of thought experiments by Somewhere Else.
Interested to know how we can help you with innovation and design thinking?
CONTACT US
︎
---